A GUIDE TO FREIGHT FORWARDING
When goods need to travel across a country or the world, they will often stop at a number of intermodal points before they reach their final destination. Freight forwarding is the coordination of the shipping process for global freight. International shipping involves a lot of additional coordination, as when a good is an import or export, customs clearance must be properly handled as well
What Freight Forwarding Companies Do
Professional freight forwarding companies are responsible for the planning, moving, loading, and unloading of large shipments from ships, trucks, trains, and planes. Freight forwarders handle freight shipping all over the world, creating departure, arrival, and relay points for thousands of shipments a day. Freight forwarders also provide access to different kinds of transportation services, including import and export haulage by road, rail, air, and ocean freight.
Freight Forwarding Services
Freight forwarding companies can offer a variety of different services, or serve as an all-encompassing agent for all your import and export needs. However, freight forwarders do not own the means of transportation or any vessels. Rather, they have contracts with one or more carriers to move goods. A freight forwarder works with air, ocean, road, and rail carriers to produce multiple options for shipping routes.
Freight forwarding services can also handle customs clearance for you. This can be a challenging part of the shipping process, as there are many shifting rules and regulations you must be aware of. Where and when the responsibilities transfer from the seller to the buyer, how to handle duty payments and insurance, and finding the more time and cost efficient ways to import or export goods are all things a freight forwarding service can help you with.
What You Need
When importing or exporting international freight, certain items and documentation are needed for customs clearance. Firstly, you will need a bill of lading, which is a detailed list of the goods in a shipment in the form of a receipt. Bills of lading are slightly different than export packing lists which are also required. They include details and descriptions of all the goods enclosed in a shipment.
You will also need a commercial invoice, which details the sold goods and the price they were bought for, and is a major factor in determining duty rates. A reliable freight forwarder can help you provide and organize all these declaration documents.
What to Look For in a Freight Forwarding Service
When looking for a freight forwarding partner, there are a few things you should look for to ensure the best service possible. Customer service can be a crucial part of any relationship with a freight forwarder. Global shipping is a complicated industry with many moving parts, and it's important you have someone working on your behalf to ensure delays are minimized.
A good freight forwarder also has a number of relationships with shippers, so they can come up with efficient shipping routes and cost options for importers and exporters. Having different intermodal shipping methods allows freight forwarders to plan detailed shipping routes ahead of time.
Communication is another thing to look for, as getting real time updates and having access to tracking servers can be greatly beneficial to your business operations. If there are any delays or things that need your attention, you want your freight forwarding service to provide immediate response and communication to rectify any issues as soon as possible.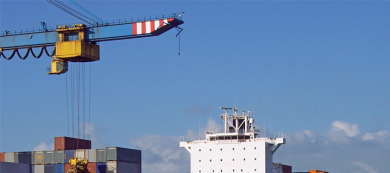 Final Thoughts
A freight forwarding service is a crucial part of any business's supply chain. These companies act as the organizational part of your shipping process. They coordinate cargo shipments between ships, trains, trucks, and airplanes, as well as manage customs clearance for imports and exports.
It is important to choose a freight forwarder that acts in your best interest and does their best to communicate any issues promptly and ahead of time. At Asiana USA, we aim to combine our expertise in shipping with high-quality customer service to provide our clients with the best service possible. Call our professional staff today at (84) 028 66 787 222 to learn more.